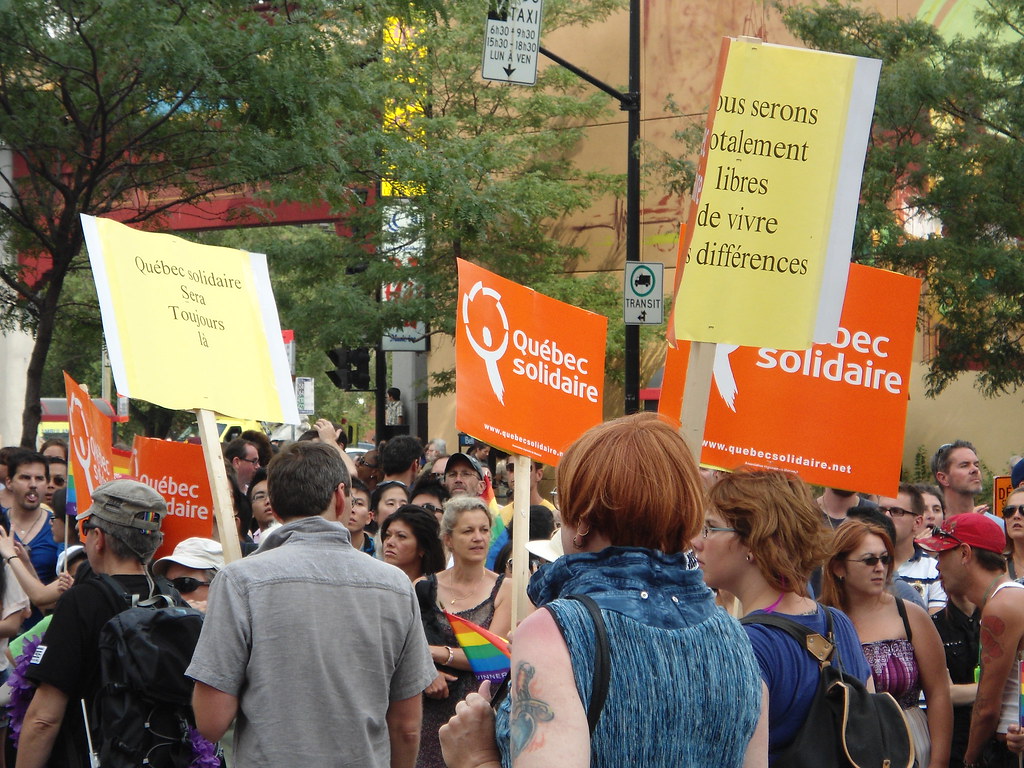 For Immediate Release
June 4, 2021 – Canadians for Justice and Peace in the Middle East (CJPME), the Canada Palestine Foundation of Quebec (CPFQ) and Independent Jewish Voices Canada (IJV) congratulate Quebec Solidaire for rejecting a non-binding motion in Quebec's National Assembly this morning which would have adopted language from the dangerously-flawed and widely-rejected International Holocaust Remembrance Alliance (IHRA) Working Definition of Antisemitism. In rejecting this motion, Quebec Solidaire is the only party in the National Assembly to have taken a firm position both against antisemitism and against the silencing of Palestinian voices.
While the motion noted that peaceful protest against Israeli policy is not in-and-of-itself antisemitism, it borrowed wording directly from the IHRA's flawed definition, and the Environment Minister described the initiative as a failed attempt to adopt IHRA. IJV and a number of other Quebecois civil society organizations have already pointed out that the IHRA's definition itself is vague and confusing. There are several other better definitions of antisemitism which take great care to distinguish between anti-Jewish racism and criticism of Israel, such as the Jerusalem Declaration on Antisemitism.
"The IHRA antisemitism definition has very little to do with making the world a safer place for Jews, and much more to do with limiting freedom of expression on Israel-Palestine," says Aaron Lakoff of IJV. "When the Quebec government seeks to pass a motion calling for Quebec to commit itself to a renewed international effort to combat antisemitism, we question which effort they're referring to exactly. Several efforts have been made in recent years to frame the non-violent Boycott, Divestment and Sanctions (BDS) movement as 'the new antisemitism', or to define anti-Zionism as antisemitism. We flat out reject these efforts."
"Québec Solidaire is showing real leadership in its rejection of the IHRA antisemitism definition," says Denis Kosseim of the CPFQ. "As Palestinians, we have been smeared as antisemites too many times by pro-Israel lobby groups, simply for demanding basic human rights for our people under international law."
"In recent weeks we have seen an escalation of Israel's brutal violence against Palestinians," adds Michael Bueckert of CJPME. "This includes raids at Al Aqsa, the ethnic cleansing of Palestinians families in Sheikh Jarrah, and Israeli airstrikes which killed 66 children. Now more than ever, Quebecers have a duty to raise their voice in support of Palestinian human rights, but the IHRA would restrict their right to do so. We appreciate the efforts of MNAs who stood up for the free expression of Quebecers and the human rights of Palestinians by denying the passage of this motion."
"The fight against antisemitism cannot be separated from the fight against all other forms of bigotry," continues Aaron Lakoff. "We see the blatant hypocrisy of a government that has continued to deny Islamophobia and systemic racism in Quebec, that has blocked human rights initiatives for Indigenous peoples, and yet is willing to bend to the pressure of the pro-Israel lobby in adopting the IHRA. If the CAQ was serious about combating antisemitism in Quebec, they would immediately annul Bill 21, which denies the freedom of expression of Jews, Muslims and other religious minorities in the public service."
Media contact
Michael Bueckert, VP CJPME
michael.bueckert@cjpme.org or 613-315-7947
Aaron Lakoff, IJV Communications and Media Lead
aaron@ijvcanada.org, 514-317-6288
Denis Kosseim, board member, CPFQ
denis.kosseim@gmail.com, 514-923-5594