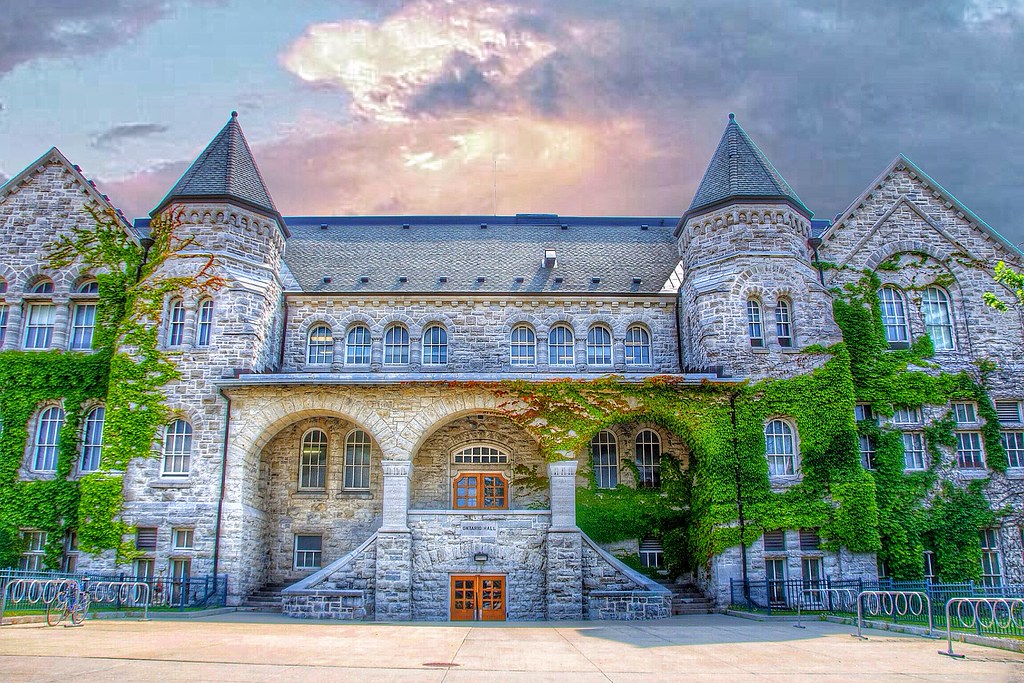 ["Kingston Onatrio ~ Canada ~ Queens University ~ Ontarion Hall ~ Heritage ~ Historic" by Onasill ~ Bill – 80M Views is licensed under CC BY-NC-SA 2.0]
Independent Jewish Voices – Kingston Statement
It has come to our attention that Queen's Hillel has made a complaint to the AMS and the Queen's University administration, against the student organization Solidarity for Palestinian Human Rights (SPHR) for campaigning to raise funds for Samidoun: Palestinian Prisoner Solidarity Network. The SPHR campaign was raising awareness about the plight of Palestinian prisoners and raising money to help support the prisoners' families. On its Instagram page, Queen's Hillel claims that "the organization" defends prisoners who are alleged terrorists or are linked to terrorist organizations.
By focussing on a handful of notorious prisoners, Queen's Hillel ignores the thousands of Palestinian political prisoners, men, women and even children, locked up in Israeli prisons by military courts, often without charges under an administrative detention order, and facing torture, isolation and other cruel treatment. According to the organization Defence for Children International – Palestine, "Israel has the dubious distinction of being the only country in the world that systematically prosecutes around 700 children each year in military courts lacking fundamental fair trial rights. From the moment of arrest, Palestinian children encounter ill treatment and torture at the hands of Israeli forces. Three out of four experience physical violence during arrest or interrogation." Samidoun's work defending the human rights of Palestinian prisoners is clearly valuable.
By using the ahistorical term terrorism, Queen's Hillel is ignoring the context in which the judicial system in the West Bank operates. Since 1967 Israel has been an occupying sovereign power ruling over the Palestinians in the West Bank in all aspects of their daily lives by relying on military force as well as a byzantine administrative system, often arbitrary, and changing without notice. The Israeli judicial system in the West Bank is another tool to suppress any Palestinian opposition to the occupation. Israeli Women's Rights organization Machsom Watch reports regularly from the military courts where both political and civilian cases are tried in front of soldier-judges.
According to a U.N. Report from April 17th 2015:
• Since the start of the Israeli occupation in 1967, the overall number of prisoners and detainees held captive in the Israeli prisons has exceeded 850,000 Palestinian civilians, including 15,000 women and tens of thousands of children, in grave violation of the relevant provisions of the Geneva Conventions.
• Since 2000, more than 85,000 cases of administrative detention have been registered, among them more than 10,000 children, approximately 1,200 women, more than 65 elected members of the Palestinian Legislative Council and former ministers. Israel's arbitrary detention practices target all members of Palestinian society: children, youth, the elderly, women, mothers, spouses, the sick, the disabled, academics, lawmakers, ministers, union leaders, students, writers and artists.
In this context, Samidoun's work defending the human rights of Palestinian prisoners is clearly needed.
Amnesty International has criticized the process used to incarcerate the alleged terrorist, leader of the PFLP, to whom Queen's Hillel refers on Instagram. It should be remembered that Nelson Mandela, a leader of the ANC, who was imprisoned for 27 years and labelled a terrorist, was later recognized as a freedom fighter.
SPHR has continually done important educational work in support of human rights for Palestinians and in solidarity with all oppressed peoples. IJV Kingston is in complete agreement with SPHR's answer to Queen's Hillel action. Their excellent statement "Solidarity for Palestinians Human Rights" can be found on the Queen's SPHR Facebook page.
Queen's Hillel is to be commended for endorsing, on their Instagram page, a letter, No Silence on Race, from Jews of colour addressing structural racism towards them within the Jewish community. It is an important start, but nowhere near what is needed to combat all forms of racism within the Jewish community. Hillel in general, and Queen's Hillel in particular, have a blind spot when it comes to racism against Palestinians.
Finally, along with Queen's Hillel and Queen's administration, IJV Kingston condemns the sexist, racist and antisemitic messaging that occurred during a Zoom hack recently by unknown hackers during a guest lecture from Yale Professor Kathryn Lofton at the School of Religious Studies.
-30-
kingston@ijvcanada.org