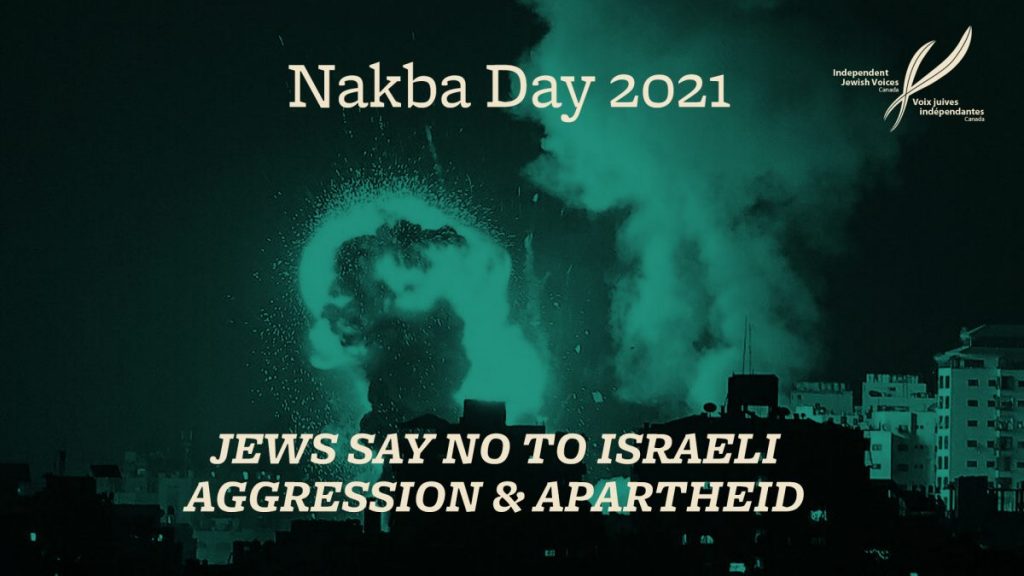 Independent Jewish Voices Canada is standing with Palestinians around the world to mark Nakba Day on May 15th. Nakba (Arabic for "catastrophe") Day is observed in Palestine and around the world to commemorate the displacement of hundreds of thousands of Palestinians surrounding Israel's declaration of independence in 1948.
Once again this year, Nakba Day takes place against the backdrop of a tragic escalation of Israeli violence against Palestinians, notably in Gaza, East Jerusalem and throughout several Palestinian cities and towns inside Israel.
Over the past week, we've seen fascist and ultra-nationalist Jewish Israeli mobs take to the streets of Lod, Haifa, Akko and Jerusalem, chanting 'death to Arabs' and mercilessly beating Palestinians in the streets and in their homes. These are pogroms, pure and simple. Meanwhile, Israeli rockets have been raining down on the besieged Gaza strip, killing scores of civilians, including at least 27 children. And Palestinian neighbourhoods of Jerusalem are being ethnically cleansed right before our eyes.
This is not a conflict between two equal sides. This is not a 'real estate dispute'. As Palestinians have been saying for decades, and as human rights organizations have confirmed, this is apartheid.
The Nakba was not a singular event, but a process which sadly continues to this day. Many of our Palestinian friends are marking Nakba Day this year under the theme of "ongoing Nakba, ongoing resistance". While the situation is grim, we remain inspired by the steadfastness of Palestinians and their beautiful struggle for freedom. These 73 years of Nakba have not crushed their thirst for freedom – but only made it stronger. This year, on the 73rd anniversary of the Nakba, we are proud as Jews to stand with Palestinians, and we call on the world to join them in their struggle against Israeli apartheid.
IJV is endorsing, co-organizing, and supporting several Nakba Day rallies across Canada. We encourage you to attend the one closest to you. (Note, all events are on May 15th, unless otherwise noted. Times are local.)
Vancouver – 2pm, CBC Plaza
Edmonton – 6pm, Castledowns YMCA
Regina – 3pm, Legislative Building
Saskatoon – 3pm, 500 Spadina Crescent E.
Winnipeg – 1pm, Manitoba Legislative Building
Windsor – 5:30pm, Riverside & Ouellette
London, ON – May 14, 5pm, Masonville Mall
Kitchener-Waterloo – 5pm, Victoria Park Clock Tower
Guelph – 2pm, City Hall
Hamilton – May 16, 4pm, City Hall
Toronto – 7pm, Nathan Phillipps Square
Kingston – 18h, Springer Market Square
Ottawa – 1pm, Human Rights Monument
Montreal – 11am, Parc Lafontaine, 2pm Dorchester Square
Quebec City – 1pm, Assemblée Nationale
Saint John, NB – 11am, City Hall
Halifax – 4pm (Virtual)
St-John's, NL – May 16, 10:30am, Bannerman Park