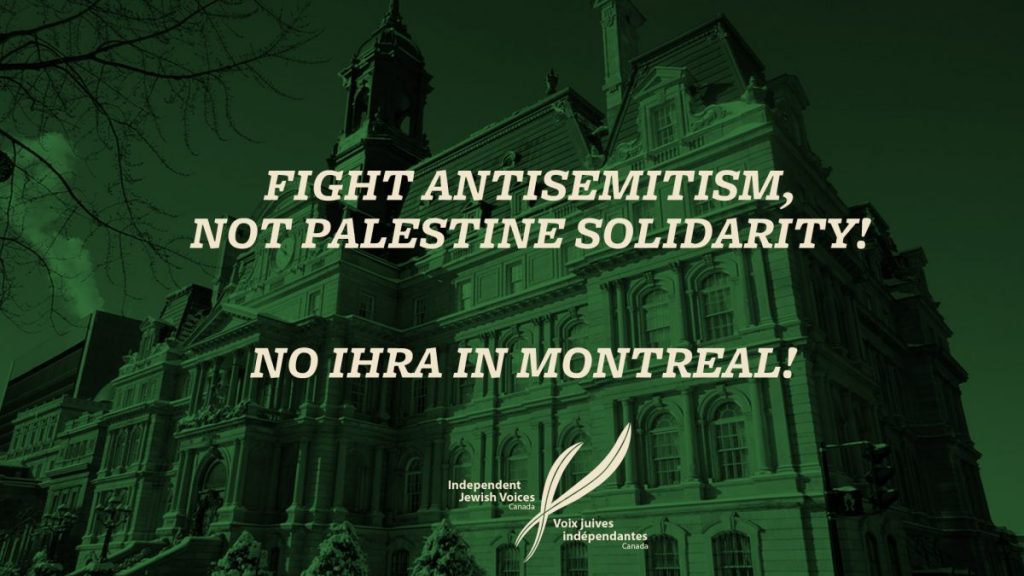 In March, 27 Montreal-based anti-racist organizations sent an open letter to Mayor Valérie Plante and Montreal's city council, demanding they take a stance against the dangerously misleading International Holocaust Remembrance Alliance (IHRA) antisemitism definition. A motion to adopt the IHRA is expected to be presented at a city council meeting on March 22nd, even though a similar motion was withdrawn following widespread grassroots opposition in January, 2020.
If you live in Montreal, please take 1 minute to send your own email to Mayor Plante and city council saying YES to fighting antisemitism, but NO to the IHRA.
---
Montreal, March 9, 2021
We are writing as members and representatives of diverse parts of the Montreal community, and we stand unified in our strong opposition to any adoption of the controversial and misleading International Holocaust Remembrance Alliance (IHRA) Working Definition of Antisemitism.
We fully recognize that antisemitism represents a very real threat to Jews the world over, including here in Montreal, and we are committed to the fight against it. But we reject the claim that the IHRA definition is the best or even a useful method to combat it.
The IHRA definition conflates antisemitism with many forms of criticism and protest of Israel, thereby posing a serious threat to freedom of expression, including academic freedom. In reality, antisemitism is a type of bigotry closely related to, and often driven by similar motivations and forces as other forms of bigotry. As such, it must be fought alongside other forms of racism, including anti-Arab and anti-Palestinian racism. Sadly, the IHRA definition sets up the struggle against antisemitism in opposition to the struggle for Palestinian freedom and self-determination.
Last year, when councillor Lionel Perez initially brought a motion to adopt the IHRA definition of antisemitism to the city of Montreal, it was widely rejected. Hundreds of people sent emails to voice their opposition, and several members of Montreal's Jewish community made passionate appeals against the IHRA during the question period at city hall. In the end, the motion was withdrawn when it became clear that the IHRA was tremendously divisive, both at city council, and among Montrealers.
Despite growing opposition to the IHRA definition, on January 27th, 2021, the borough of Côte-des-Neiges – Notre-Dame-de-Grâce (CDN-NDG) made the decision to push ahead with its adoption, giving little notice or time for public consultation. We now fear that there may be renewed efforts to bring a motion to adopt the IHRA back to city council. We are therefore asking Mayor Valerie Plante and other councillors to stand firm in rejecting such a motion if it does come up.
A public debate about this misleading definition has been underway for some time, and reports are revealing that the definition, along with its illustrative examples, is being used to silence criticism of Israel and target those who speak out in support of Palestinian human rights and self-determination. For instance, in the London borough of Tower Hamlets, the IHRA definition was used as grounds to shut down a charity bike ride event for children in the Gaza Strip.
Public opinion is already shifting against the IHRA definition. Just last month, the New Israel Fund of Canada withdrew its support for the definition, citing "worrying evidence" it will be used to suppress free speech by equating criticism of Israel with antisemitism. At the same time, a coalition of major liberal and progressive Jewish organizations in the United States issued a joint call for the Biden administration to not codify the IHRA definition into law, citing the same concerns. It has also been rejected by organizations such as the Canadian Labour Congress, la Ligue de Droits et Libertés and the Canadian Federation of Students.
The IHRA definition is divisive and harmful. If the city of Montreal were to adopt it, these divisions would be brought into our communities and neighbourhoods.
We call on the City of Montreal to hold its ground and refuse to adopt the IHRA definition, and to take a firm stance for freedom of expression and human rights. Rather than re-considering this dangerous definition, we call on the city to adopt an intersectional anti-racism strategy encompassing all forms of racial, ethnic, and religious discrimination; including antisemitism.
Signed:
Ligue des droits et libertés
Canadian Palestinian Foundation of Quebec/Fondation canada-palestinienne du Québec
Independent Jewish Voices – Montreal
Palestiniens et Juifs unis/Palestinian and Jewish Unity
Canadian Foreign Policy Institute
Alternatives
Fédération des Femmes du Québec
CKUT Radio
Centre Justice et Foi
Confédération des syndicats nationaux (CSN)
Conseil central du Montréal métropolitain – CSN
Conseil régional FTQ Montréal métropolitain
Centre International de Solidarité Ouvrière (CISO)
Convergence des Luttes des Suds
Immigrant Workers' Center
Academics for Palestine – Concordia
Solidarity for Palestinian Human Rights – McGill
Le Groupe de recherche d'intérêt public du Québec à Concordia/The Quebec Public Interest Research Group at Concordia University
Canadians for Justice and Peace in the Middle East
Tadamon!
Verdun Ensemble Contre Gentrification
Front d'action populaire en réaménagement urbain (FRAPRU)
Midnight Kitchen
l'Association québécoise des organismes de coopération internationale (l'AQOCI)
Parti communiste du Québec
Ligue de la jeunesse communiste du Québec
Mouvement québécois pour la paix