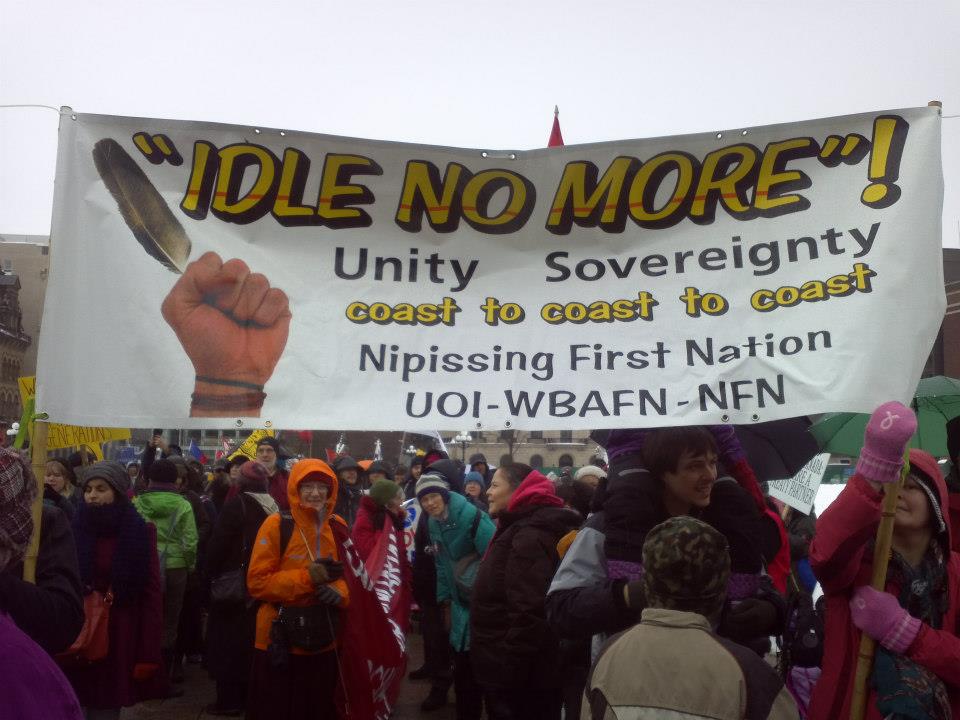 We of Independent Jewish Voices – Canada extend heartfelt greetings to and solidarity with Idle No More.
We are Jewish Canadians of diverse backgrounds who share a strong commitment to social justice and human rights. We are particularly concerned about the continuing violation of Palestinian human and national rights on the part of successive Israeli governments. We believe that recognition of and protest against such realities is of better service to both Israelis and Palestinians than reflexive, uncritical support for Israeli government policies.
Given the past history of Jewish persecution, it is important for us to take a strong stand against any form of national, ethnic, cultural, or religious oppression. This is the reason for our strong stand against Israeli violations of Palestinian rights, and as Jewish Canadians, for our opposition to the historic and ongoing injustices perpetrated against the Indigenous peoples of Canada.
These injustices have taken many forms, including the notorious residential schools, which entailed a systematic attempt to destroy the cultural and national identities of Indigenous peoples; forced evictions from Indigenous lands; the extinguishment of Aboriginal rights and title; a systematic failure to adequately consult with and accommodate Indigenous peoples; and the government's callous disregard for the appalling and disproportionate number of Indigenous women and girls who have gone missing or been murdered in Canada. The devastating effects of these injustices on Indigenous communities are being challenged by increasing and various forms of resistance, in particular, the Idle No More movement.
As Jewish Canadians, we aspire to build a relationship of co-operation and solidarity with Indigenous peoples, and are proud to stand in solidarity with Idle No More. We aim to work toward a truly equal and just society in Canada for all its inhabitants, of all backgrounds, as part of a better world for all peoples.