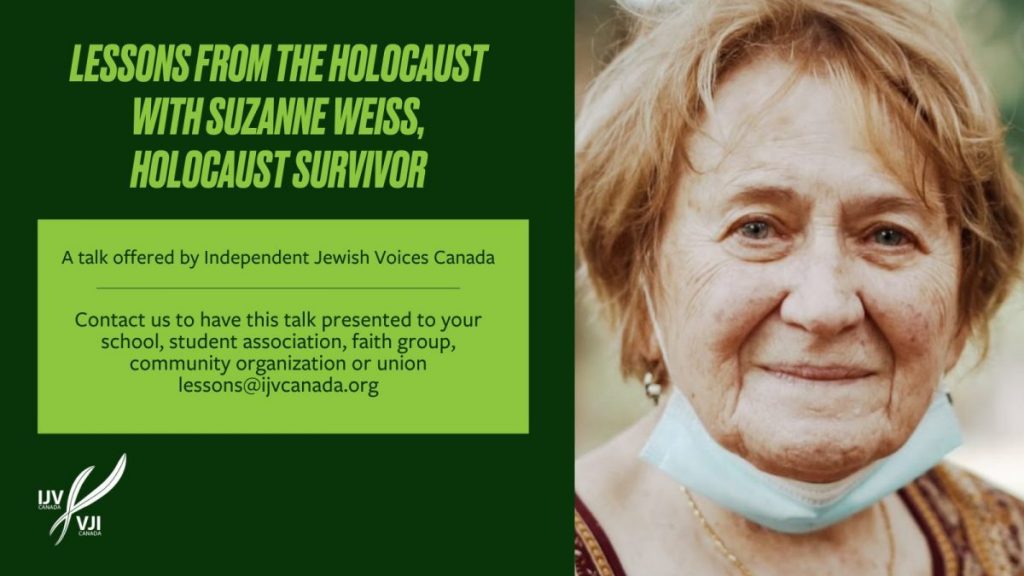 Independent Jewish Voices is offering this powerful and moving talk featuring Jewish Holocaust survivor, author, and longtime social justice activist Suzanne Weiss. If you would like to have Suzanne present this talk for your school, student association, faith group, community organization or union, get in touch with us. We'd be happy to work with you. Contact lessons@ijvcanada.org.
Suzanne's talk draws on her experiences surviving the Holocaust as a child in Vichy France and lessons from her lifetime of social justice activism to explore how we can fight racism in our present time. In relating her powerful story, she provides listeners with both a history which we must remember and the inspiration to make a difference in our world.
Speaker
Born to Jewish parents in Paris in 1941, Suzanne was hidden from the Nazis on a farm in rural France. Alone after the war, she lived in progressive-run orphanages, where she gained a belief in peace and brotherhood. Adoption by a New York family led to a tumultuous youth haunted by domestic conflict, fear of nuclear war, consignment to a detention home and magical steps toward relinking with her origins in Europe.
"Suzanne Weiss exemplifies what it looks like to dedicate one's life, post-Holocaust, to the mandate of 'Never Again' – for anyone. Her fascinating life story is sure to inspire many generations of activists."
— Corey Balsam, National Coordinator, Independent Jewish Voices Canada