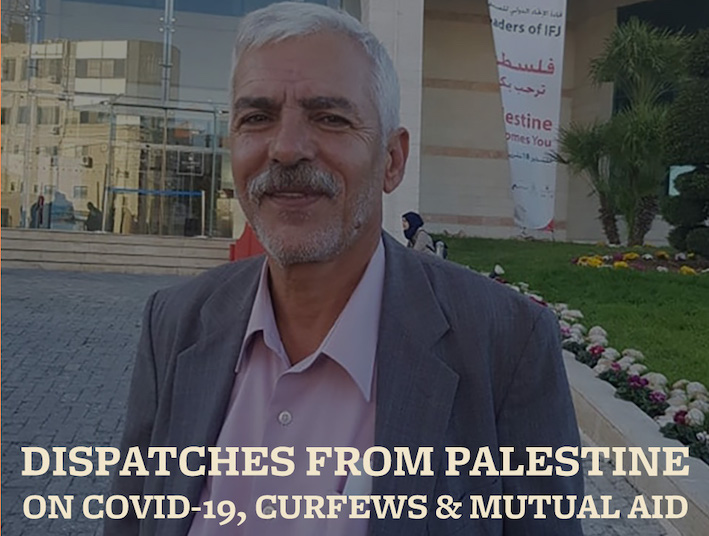 Over the next few days, IJV will be releasing a series of dispatches from Palestinians and Palestine solidarity activists reflecting on life under the COVID-19 pandemic. As the world grapples with the outbreak, and as we organize mutual aid and solidarity in many cities, we must keep Palestine in our minds and hearts.

We can inspire ourselves and draw important lessons from experiences of Palestinian life under military curfew, siege and travel restrictions. Far from drawing an equation between self-isolation and occupation, we hope to learn from the strategies Palestinians have employed for decades, and hear their advice for the world in these difficult times.

Now more than ever, Palestine must be free. The brutal siege of Gaza, and the ongoing occupation of the West Bank, are tinderboxes for the Coronavirus. The Gaza Strip just confirmed its first cases of the virus. Medical aid must get in, people must have access to testing, and Israel must end its daily restrictions on Palestinian life.

If you appreciate these dispatches, and want to see more work like this, please donate to Independent Jewish Voices today.

—-

Our second dispatch is from Abdelkarim Dalbah, a 61-year old activist, freelance journalist, and field researcher living in Tulkarm, Palestine. Tulkarm is a city in the north of the West Bank. I first met Abdelkarim in 2005 while I was volunteering for the International Solidarity Movement (ISM) in Palestine, and he was serving as one of its lead organizers. His charisma, warmth, and activist skills have inspired me ever since.

Reflecting on life under curfew, Abdelkarim puts it bluntly, "Curfew is like prison". And he should know: like many Palestinian men of a certain age, he has done his share of time in Israeli prison – 6 years.

Similar to Ashraf in our first dispatch, he cannot remember how many times in his life he's been under curfew, but estimates that the accumulated time would amount to about 1 year.

For 20 years of his life, between 1990 and 2010, he was forbidden to leave Palestine by the Israeli authorities. He has other members of his family in Jordan and other Middle-Eastern countries, and so he was prevented from seeing them over these difficult years.

"We managed to live our lives through these challenges — marry, have kids, work in the city. Now we are back to another kind of curfew [with the Coronavirus], but we will manage."

I asked Abdelkarim what curfew is like on a daily basis.

"You feel like you're in prison, and the guard is right outside your door."

"The worst curfew I lived through in Tulkarm was right after I was married to my wife, during our honeymoon. We were married on December 21st, 1990. This was during the First Intifada (Palestinian popular uprising), and the curfew lasted for a whole month. So we spent our honeymoon at home."

He then chuckles about it, "It was good and bad at the same time!" Then he continues on a more serious note, "it was bad because my wife was working in a laboratory at the time, and she was only able to go into work after 10 days, and I had to stay at home."

I asked Abdelkarim what people did when they had to stay at home.

"Most of the time, families were caring for their kids. A curfew means danger if you go outside. So families spend a lot of time worrying about their kids, because their kids can't stay at home all the time. They always want to be going to their neighbor's house, but it's really difficult. Sometimes you sneak to your neighbor's house through fields or narrow roads, but you're putting yourself at risk."

"I covered the First Intifada as a journalist, and I know that some people lost their lives trying to break curfew to get bread or other food for their families."

People need to think about this as humanity's issue. It's not just in some nations – it can happen to any nation. And this is the same for many issues: climate change, disease and wars. It is a time to demand justice and equality.

Abdelkarim Dalbah
I asked him for his advice to the world on dealing with social isolation.

"People need to think about this as humanity's issue. It's not just in some nations – it can happen to any nation. And this is the same for many issues: climate change, disease and wars. It is a time to demand justice and equality. It is a time to demand access to medical resources."

"When people are occupied, as we are now in Palestine, if the Coronavirus starts to spread, it will be a miserable situation because of the lack of medical resources. Our hospitals don't have what it takes to cope in terms of intensive care units (ICU's), oxygen machines, etc. We don't have many cases in the West Bank now, but we also aren't able to test people. Israel is doing thousands of tests per day, but we can only do about 100 tests per 2 days. We don't have the capacity to cope with the disease right now."

In the Gaza Strip, under a severe military siege since 2007, the situation is even worse. The Israeli government has only made 200 Coronavirus test kits available to the nearly 2 million Palestinian inhabitants of the world's largest open-air prison. Getting stethoscopes or basic painkillers to Gazan hospitals is hard enough, let alone the ventilators needed for lung failure.

Abdelkarim has seen many decades of curfew and invasions. His closing advice, also given with a bit of a light-hearted laugh: "People should be more patient!"

Right before hanging up the phone with Abdelkarim to end the conversation, he said something that got me thinking about all the technology we use to stay connected in these difficult times. It had been nearly 12 years since the last time Abdelkarim and I spoke, so I told him how good it was to talk after all this time. And in response, he said, "You know, during the First Intifada, we didn't have mobile phones or Whatsapp or Skype. It made it really hard to know what was happening even in the next village. Now, we can call our friends overseas!"

To which I replied, "Indeed, let's stay in touch, my friend."

Keep your friends and family close. Call your neighbors who might not be doing well. And let's keep Palestine in our minds and hearts.
By Aaron Lakoff, IJV Communications and Media Lead