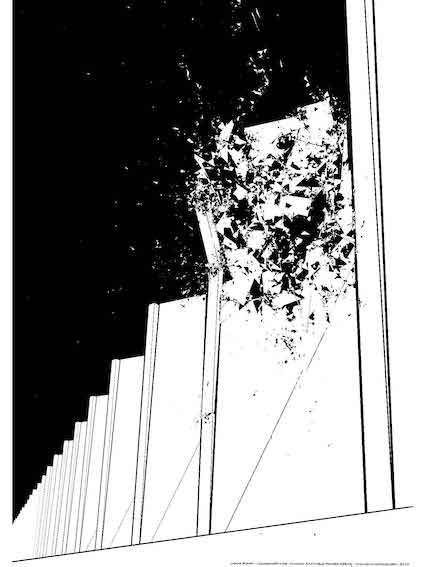 (Image: Jason Kuhrt, Imaging Apartheid)
Independent Jewish Voices Canada is deeply dismayed and concerned with the Ontario Government's decision to unanimously approve Bill 168, the Combating Antisemitism Act, on its second reading at Queen's Park yesterday. The Bill seeks to adopt the International Holocaust Remembrance Alliance's (IHRA) flawed and controversial definition of antisemitism.
Bill 168 was approved on second reading by a vote of 55-0, and now goes to the standing committee on justice policy for review and public input before a final vote. Particularly concerning is that not one NDP MPP voted against the Bill, representing a serious betrayal of the party's commitments towards human rights and progressive values in Ontario. Conspicuously absent were nearly the entire Ontario NDP caucus, including party leader Andrea Horwath, and anti-racism critic Laura Mae Lindo. In a bizarre move, NDP MPP John Vanthof spoke to concerns around the impact on freedom of expression that Bill 168 represents, but then voted in favour of the Bill.
Ontario NDP MPPs should be reminded that only 4 years ago, Bill 202 came up for debate at Queen's Park – a bill that would have imposed severe limitations on the Boycott Divestment and Sanctions (BDS) movement, prevented the province with doing business with institutions that supported BDS, and stopped universities from being able to endorse the movement. Luckily, this profoundly anti-democratic Bill failed on second reading. At the time, then Ontario NDP deputy leader Jagmeet Singh spoke passionately against the Bill in the interests of having a free and open societal debate on Israel-Palestine. It is profoundly troubling that the NDP has strayed so far from this position that one of its most prominent members took not so long ago.
IJV Canada wishes to thank all of our supporters, over one thousand of whom sent in emails to members of Ontario's Parliament to oppose Bill 168. In addition, we thank the many organizations that supported us in our fight, such as the Ontario Coalition Against Poverty, the Canadian Federation of Students, the International Civil Liberties Monitoring Group, the Canadian Friends Service Committee, and the BC Civil Liberties Association. Moreover, a group of over 350 Canadian academics launched an open letter yesterday declaring their opposition to the IHRA's definition of antisemitism.
While yesterday's vote at Queen's Park was extremely disappointing, IJV Canada remains committed to the fight against Bill 168, and against the IHRA antisemitism definition more broadly. We believe that it is crucial to fight antisemitism and white supremacy, while at the same time protecting freedom of expression and standing up for Palestinian human rights.
In terms of the next steps, IJV Canada intends to weigh in on Bill 168 during the period of public input, and we will keep our members posted as to the next action steps.