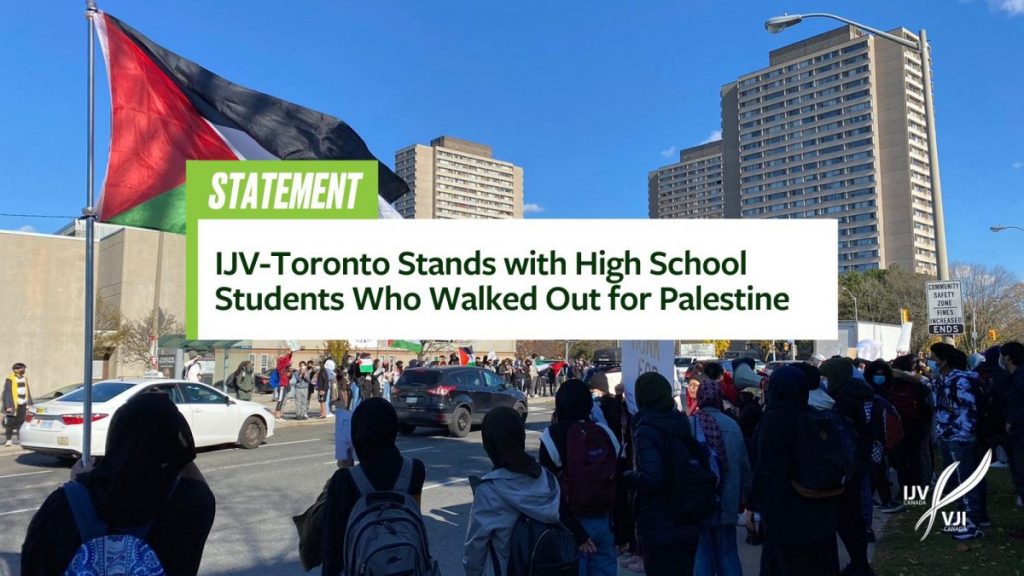 Independent Jewish Voices-Toronto congratulates the hundreds of courageous students at Marc Garneau Collegiate Institute for staging a walk-out and demonstration on Friday, November 12th, in protest of anti-Palestinian racism and recent efforts to silence voices critical of the Israeli government within the Toronto District School Board.
It comes as no surprise that in reaction to this powerful and inspiring student action, right-wing Israel advocacy groups CIJA and Friends of the Simon Wiesenthal Center (FSWC) are attempting to shame and smear these youth. They have focused their shaming tactics on the slogan, "From the River to the Sea, Palestine Will be Free", which they absurdly claim is antisemitic.
The FSWC also levelled similar baseless accusations against author/activist Desmond Cole in September following a presentation given by Cole to the TDSB in which he used the phrase "Free Palestine". Both IJV-Toronto and Cole himself responded to these attacks.
Claiming that Palestinians and their supporters who use this slogan are calling for the death and expulsion of Jewish Israelis – and even more inflammatory, "the annihilation of the Jewish people" – is not only false, but a cover-up of actual social relations in this region. It is a crude attempt to distract from the real and well-documented situation between the Jordan River and the Mediterranean Sea.
In the occupied West Bank, illegal Israeli settlers encroach daily on Palestinian homes and land. Children are arrested in night-time raids and tried before military courts. There are Israeli-only highways, facilitated with a system of separate license plates which make many roads off limits for Palestinians. In Gaza, Israel continues to maintain an inhuman siege, severely restricting the movement of its almost 2 million residents, restricting food and regularly bombing and destroying life and infrastructure. Within Israel's internationally recognized borders, at least 50 different laws contribute to systemic discrimination against Palestinian citizens of Israel. There are Jewish-only towns where Palestinians are denied residence, and separate school systems for Jews and Palestinians, with curriculum controlled by Israel.
The slogans "Free Palestine" and "From the river to the sea, Palestine will be free" are therefore nothing but rallying cries in support of liberating Palestinians from this oppressive reality, which respected international human rights organizations such as B'tselem and Human Rights Watch have concurred constitutes a form of apartheid.
Faced with this reality, growing numbers of TDSB students are objecting to this system of injustice. In a free and democratic society such as our own, they must not only be allowed to voice these objections, but they must also be encouraged to do so.
Furthermore, we are concerned by the fact that the TDSB regularly consults and collaborates with CIJA and FSWC on matters of curriculum relating to Israel-Palestine. Yet these same organizations have proven that they are intent on silencing Palestinian student voices and those sympathetic with Palestinian human rights. We therefore demand that the TDSB drop its relationship with these organizations. There are growing numbers of Jews in Canada and the United States who do not see Israel as embodying the ethics of Judaism and reject that Palestinians are our enemies.   
IJV-Toronto stands with the brave students who walked out of Marc Garneau C.I. and supports them in calling for a society with full human and civil rights for all people in Israel-Palestine. We proudly join them in saying, "from the river and the sea, Palestine will be free" and we encourage the leadership of the TDSB to do the same.