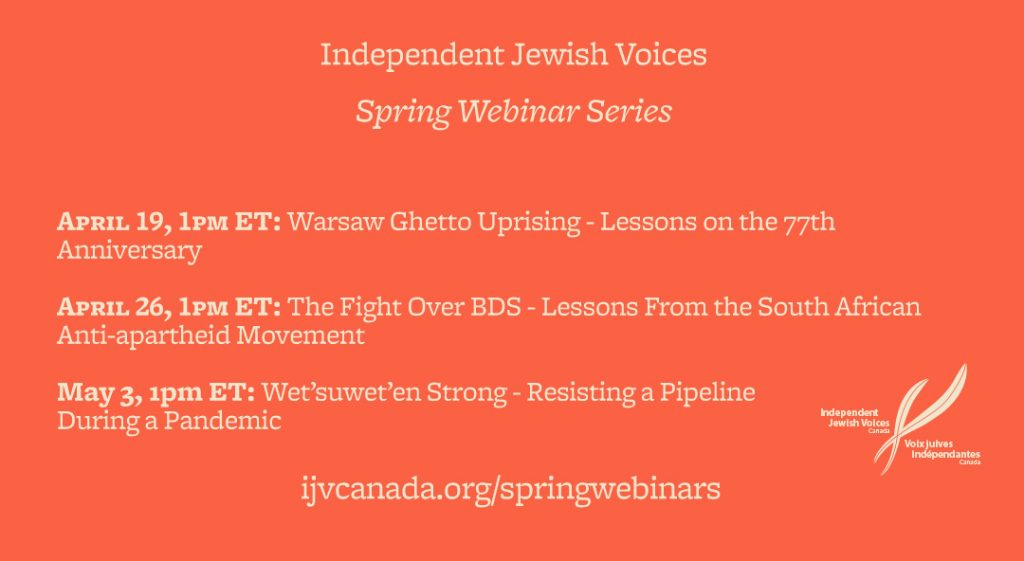 Times of pandemic mean social distancing and staying at home to keep everyone safe. But just because we can't be together in meetings or demonstrations doesn't mean we're slowing down!
Join IJV for a series of powerful and engaging webinars on several topics relating to our work.
Advance registration is required for all webinars (unless otherwise noted). Participation in all webinars is free, but donations to IJV are strongly encouraged to help us continue bringing you these wonderful events. Click here to donate now.

---
April 5, 1:00pm EDT (GMT -4)
Palestinian & Israeli Responses to COVID-19
Presenters:
Khalil Abu Yahia, English Teacher & BDS activist, Gaza City
Edo Konrad, Editor-in-chief, +972 Magazine
Diana Buttu, Palestinian-Canadian lawyer, Haifa
Moderator: Lia Tarachansky, filmmaker, member of IJV-Toronto
April 7, 6:00pm EDT
IJV Online Chavurah Passover Study Session (7:30pm EDT for Queer, Trans folks, and Women)
PLEASE NOTE THAT REGISTRATION FOR BOTH SESSIONS IS NOW FULL. THANKS TO EVERYONE WHO REGISTERED IN ADVANCE!
Moderator for the 6pm session (open to everyone): Rabbi Lucia Pizarro, Jewish Liberation Theology Institute, member of IJV-Hamilton
Moderator for the 7:30pm session (queer, trans folks, and women only): freygl gertsovski
April 19, 1:00pm EDT
Warsaw Ghetto Uprising: Lessons on the 77th Anniversary
Presenters:
Roni Gechtman, Associate Professor of History, Mount Saint Vincent University
Suzanne Weiss, author of Holocaust to Resistance: My Journey, member of IJV-Toronto
Larry Haiven, Professor Emeritus, Saint Mary's University, member of IJV-Halifax
Moderator: Julia Barnett, IJV-Toronto
On April 19, 1943 Jews caged in the Warsaw ghetto staged the largest single insurrection during World War II. Starving and lacking all but the most rudimentary weapons, a group led by both socialists and Zionists held the mighty Nazi army at bay for twenty-seven days. One of the signature icons of the Holocaust, the uprising has become embedded in Jewish memory. Unfortunately, the mainstream interpretation has been used to support the bunker mentality of the State of Israel. But are there other interpretations, lost narratives, not only of the Warsaw Ghetto, but of the Holocaust.
This webinar helps broaden the interpretation and uncover some lost narratives.
April 26, 1:00pm EDT
The fight over BDS: Lessons from the South African anti-apartheid movement
Presenter: Michael Bueckert, PhD in sociology & political economy, Carleton University
Intro remarks from Joanne Naiman, IJV-Vancouver
Similar to today's BDS movement against Israel, the campaign to boycott South Africa in the 1970s-80s was quite controversial. Friends of South Africa attempted to undermine the anti-apartheid movement through expensive state propaganda, persistent lobbying, and the use of infiltration and front groups. This webinar will look at what these two cases have in common, and offer some lessons that the BDS movement can learn from the earlier anti-apartheid movement.
May 3, 1:00pm EDT
Wet'suwet'en Strong: Resisting a Pipeline During a Pandemic
Presenter: Jennifer Wickham, Wet'suwet'en land defender from the Gidimt'en clan
In January, IJV-Canada, alongside thousands of other Canadians, took a stand in solidarity with the Wet'suwet'en people in their struggle to defend their land against a Coastal GasLink pipeline. A brutal RCMP attack on Wet'suwet'en land defenders in early February precipitated a month of rail blockades and direct actions which eventually forced the federal government to the negotiating table. Now, despite the global COVID-19 pandemic in full swing, CGL is continuing to work unabated on the pipeline. Join our webinar to hear from Wet'suwe'ten land defender Jennifer Wickham of the Gidimt'en clan talk about recent updates in the struggle, and answer your questions.